Product Summary
The CXA1691BM is a one-chip FM/AM radio IC designed for radio-cassette tape recorders.
Parametrics
CXA1691BM absolute maximum ratings: (1)Supply voltage VCC: 14 V; (2)Operating temperature Topr: –10℃ to +60℃; (3)Storage temperature Tstg: –50℃ to +125℃; (4)Allowable power dissipation: 700 mW.
Features
CXA1691BM features: (1)Small number of peripheral components; (2)Low current consumption (VCC=3 V), For FM: ID=5.8 mA (Typ.), For AM: ID=4.7 mA (Typ.); (3)Built-in FM/AM select switch; (4)Large output of AF amplifier VCC=6 V, EIAJ output=500 mW(Typ.)when load impedance 8Ω.
Diagrams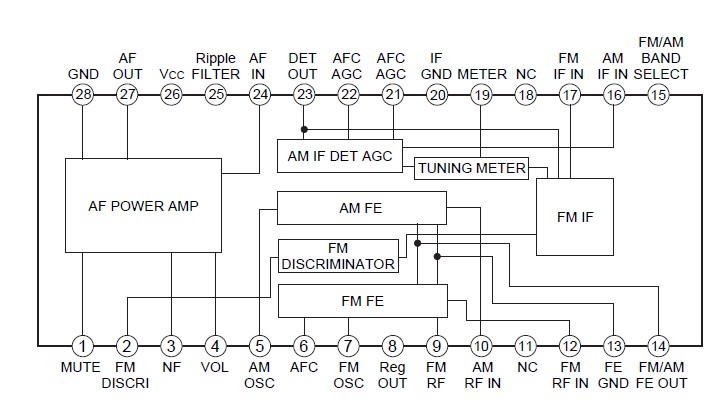 Image
Part No
Mfg
Description
Pricing
(USD)
Quantity

CXA1691BM

Other



Data Sheet

Negotiable
Image
Part No
Mfg
Description
Pricing
(USD)
Quantity

CXA10

Other



Data Sheet

Negotiable

CXA10-48D05

Emerson / Astec Power

DC/DC Converters 10W 5V 1A

Data Sheet

Negotiable

CXA10-48D05J

Emerson / Astec Power

DC/DC Converters 10W 5V 1A

Data Sheet



| | |
| --- | --- |
| 0-21: | $29.57 |
| 21-25: | $26.99 |
| 25-50: | $24.40 |
| 50-100: | $19.94 |


CXA10-48D12

Emerson / Astec Power

DC/DC Converters 10W 12V 0.41A

Data Sheet

Negotiable

CXA10-48D12J

Emerson / Astec Power

DC/DC Converters 10W 12V 0.41A

Data Sheet



| | |
| --- | --- |
| 0-1: | $25.34 |
| 1-10: | $23.46 |
| 10-25: | $23.28 |
| 25-50: | $23.09 |


CXA10-48D12-SJ

Emerson / Astec Power

DC/DC Converters 10W 36-75Vin Dual -/+12V -/+0.4A

Data Sheet



| | |
| --- | --- |
| 0-23: | $27.64 |
| 23-25: | $25.94 |
| 25-50: | $24.25 |
| 50-100: | $19.94 |