Product Summary
The CC1101RTKR is a low-cost sub- 1 GHz transceiver designed for very low-power wireless applications. The circuit is mainly intended for the ISM (Industrial, Scientific and Medical) and SRD (Short Range Device) frequency bands at 315, 433, 868, and 915 MHz, but can easily be programmed for operation at other frequencies in the 300-348 MHz, 387-464 MHz and 779-928 MHz bands.
Parametrics
CC1101RTKR absolute maximum ratings: (1)Supply voltage: -0.3 to 3.9 V; (2)Voltage on any digital pin: –0.3 to VDD + 0.3 max 3.9V; (3)Voltage on the pins RF_P, RF_N, and DCOUPL: –0.3 to 2.0 V; (4)Voltage ramp-up rate: 120 kV/μs; (5)Input RF level: +10dBm; (6)Storage temperature range: -50 to 150 ℃; (7)Solder reflow temperature: 260 ℃ According to IPC/JEDEC J-STD-020C; (8)ESD: 750 V According to JEDEC STD 22, method A114, Human Body Model (HBM); (9) ESD: 400 V According to JEDEC STD 22, C101C, and Charged Device Model (CDM).
Features
CC1101RTKR features: (1)High sensitivity (11dBm at 1.2kBaud, 868 MHz, 1% packet error rate); (2)Low current consumption (14.7mA in RX, 1.2kBaud, 868 MHz); (3)Programmable output power up to +10dBm for all supported frequencies; (4)Excellent receiver selectivity and blocking performance; (5)Programmable data rate from 1.2 to 500kBaud; (6)Frequency bands: 300-348 MHz, 387-464 MHz and 779-928 MHz.
Diagrams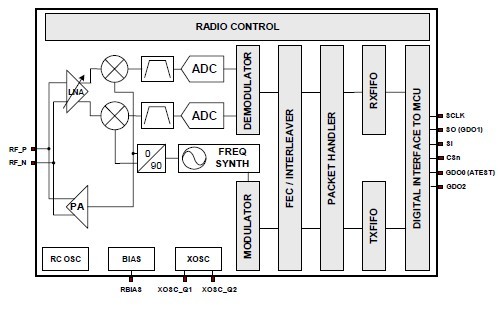 Image
Part No
Mfg
Description
Pricing
(USD)
Quantity

CC1101RTKR

Texas Instruments

RF Transceiver Lo-Pwr Sub-1GHz RF Trans

Data Sheet



| | |
| --- | --- |
| 0-1: | $2.85 |
| 1-25: | $2.29 |
| 25-100: | $2.09 |
| 100-250: | $1.89 |


CC1101RTKRG3

Texas Instruments

RF Transceiver Low-Power Sub-1GHz RF Xceiver

Data Sheet



| | |
| --- | --- |
| 0-2220: | $1.34 |
| 2220-3000: | $1.26 |