Product Summary
The TPS61150ADRCR is a high frequency boost converter with two regulated current outputs for driving WLEDs. Each current output can be individually programmed through external resistors. There is dedicated selection pin for each output, so the two outputs can be turned on separately or simultaneously. The output current can be reduced by a pulse width modulation (PWM) signal on the select pins or an analog voltage on the ISET pin, resulting in PWM dimming of the WLEDs. The TPS61150ADRCR runs at 1.2 MHz fixed switching frequency to reduce output ripple and avoid audible noises associated with PFM control. The applications of the TPS61150ADRCR include Sub and Main Display Backlight in Clam Shell Phones, Display and Keypad Backlight, Up to 14 WLED Driver.
Parametrics
TPS61150ADRCR absolute maximum ratings: (1)Supply voltages on pin VIN(2): –0.3 to 7V; (2)Voltages on pins SEL1/2, ISET1/2(2): –0.3 to 7V; (3)Voltage on pin IOUT, SW, IFB1 and IFB2(2): 30V; (4)Continuous power dissipation See Dissipation Rating Table; (5)Operating junction temperature range: –40 to 150℃; (6)Storage temperature range: –65 to 150℃; (7)Lead Temperature (soldering, 10 sec): 260℃.
Features
TPS61150ADRCR features: (1)2.5-V to 6-V Input Voltage Range; (2)Two Outputs Each up to 27V; (3)0.7A Integrated Switch; (4)Built-In Power Diode flexibility.; (5)1.2-MHz Fixed PWM Frequency; (6)Individually Programmable Output Current; (7)Input-to-Output Isolation; (8)Built-In Soft Start; (9)Overvoltage Protection; (10)Up to 83% Efficiency; (11)Up to 30 kHz PWM Dimming Frequency; (12)Available in a 10 Pin, 3×3 mm QFN Package.
Diagrams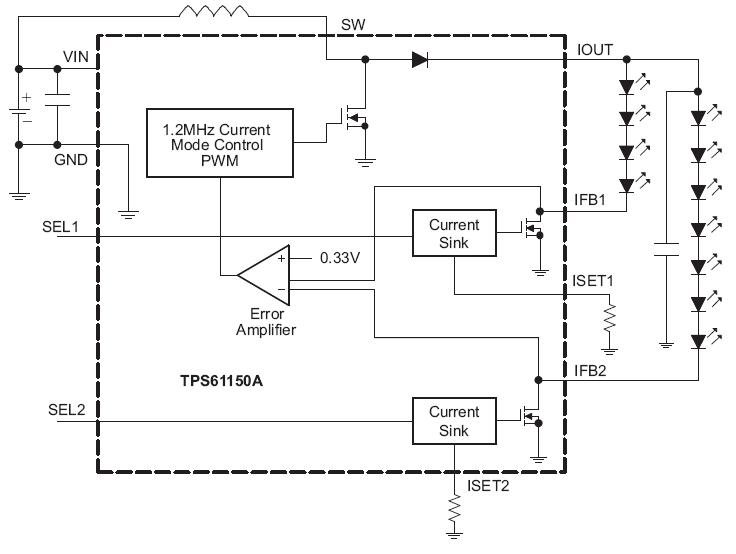 Image
Part No
Mfg
Description
Pricing
(USD)
Quantity

TPS61150ADRCR

Texas Instruments

LED Lighting Drivers Dual Output Boost WLED Driver

Data Sheet



| | |
| --- | --- |
| 0-1: | $1.87 |
| 1-25: | $1.53 |
| 25-100: | $1.48 |
| 100-250: | $1.33 |


TPS61150ADRCRG4

Texas Instruments

LED Lighting Drivers Dual Output Boost WLED Driver

Data Sheet



| | |
| --- | --- |
| 0-2230: | $0.97 |
| 2230-3000: | $0.94 |
| 3000-6000: | $0.90 |