Product Summary
The GAL16V8D-15LPN is a High Performance E2CMOS PLD. It provides maximum design flexibility by allowing the Output Logic Macrocell (OLMC) to be configured by the user. The GAL16V8D-15LPN, at 3.5 ns maximum propagation delay time, combines a high performance CMOS process with Electrically Erasable (E2) floating gate technology to provide the highest speed performance available in the PLD market. An important subset of the many architecture configurations possible with the GAL16V8D-15LPN are the PAL architectures listed in the table of the macrocell description section. The applications of the GAL16V8D-15LPN are DMA Control, State Machine Control, High Speed Graphics Processing, Standard Logic Speed Upgrade.
Parametrics
GAL16V8D-15LPN absolute maximum ratings: (1)Supply voltage VCC:–0.5V to +7V; (2)Input voltage applied:–2.5V to VCC +1.0V; (3)Off-state output voltage applied:–2.5V to VCC +1.0V; (4)Storage Temperature:–65℃ to 150℃; (5)Ambient Temperature with Power Applied:–55℃ to 125℃.
Features
GAL16V8D-15LPN features: (1)high performance E2CMOS technology: 3.5 ns Maximum Propagation Delay, Fmax = 250 MHz, 3.0 ns Maximum from Clock Input to Data Output, UltraMOS Advanced CMOS Technology; (2)50% to 75% reduction in power from bipolar: 75mA Typ Icc on Low Power Device, 45mA Typ Icc on Quarter Power Device; (3)active pull-ups on all pins; (4)E2 cell technology:Reconfigurable Logic, Reprogrammable Cells, 100% Tested/100% Yields, High Speed Electrical Erasure(<100ms), 20 Year Data Retention; (5)eight output logic macrocells: Maximum Flexibility for Complex Logic Designs, Programmable Output Polarity, Also Emulates 20-pin PAL Devices with Full Function/Fuse Map/Parametric Compatibility; (6)preload and power-on reset of all registers: 100% Functional Testability; (7)electronic signature for identification; (8)lead-free package options.
Diagrams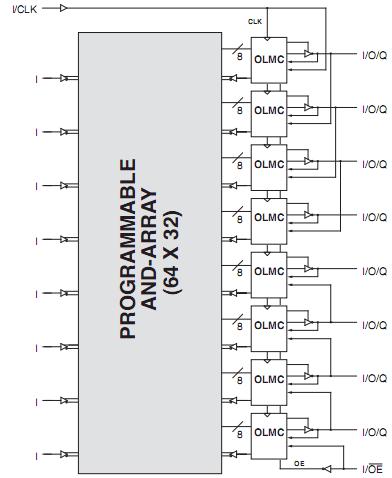 Image
Part No
Mfg
Description
Pricing
(USD)
Quantity

GAL16V8D-15LPN

Lattice

SPLD - Simple Programmable Logic Devices 16 Input 8 Output 5V Low Power 15ns

Data Sheet



GAL16V8D-15LPNI

Lattice

SPLD - Simple Programmable Logic Devices 16 Input 8 Output 5V Low Power 15ns

Data Sheet